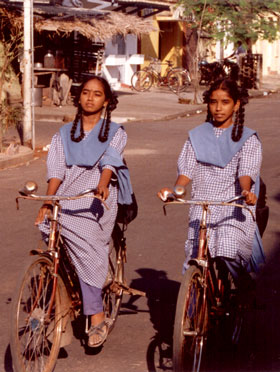 Girls in school uniforms
French flair
In previous days, Pondicherry has been a French colony. It even remained under the French flag after India got independence in 1947. Today, it is a so-called Union Territory, known for low taxes on vehicles and spirits.
Although our traveller's guide announced "French flair", only a few things are reminding nowadays of its French history: French sounding street names (e.g. "Labourdonnais Street" or "Monthorsier Street"), bakeries offering croissants, et bien sûr La Tricolore au-dessus de l'Hôtel de Ville.
Auroville
Pondicherry is occupied by Westerners - or better: former Westerners and presently inhabitants of Auroville. Auroville is a village (about 7km from Pondy) planned to be self-governed, multi-cultural, and fully autarkic.
Obviously, Auroville is not that emancipated from the material world. Innumberable motorcyclists come down to Pondicherry to get their bikes refuelled and to do some shopping. Some of these Westerners are making a show of their styled Enfield bikes - others are causing inevitably a broad grin: like that lady of about 30 to 40 years, driving her low-end moped down the road while sitting on a big pink feather-pillow.
Floor panel
After two relaxing days in Pondicherry with lots of tasty seafood, we went off to Madurai. While getting into the bus, we quickly noticed that there won't be enough space for our backpacks - not to mention my knees.
So we asked the conductor to put them down in the boot. After we pushed our packs inside, the conductor lit a match and checked if there are still all screws holding up the floor panel! Bye bye packback, you've been a good friend. But like always, everything went fine.