Sree Meenakshi Temple
This comparatively small town (just 1.5 million inhabitants) is famous for the huge Sree Meenakshi temple. The temple area consists of three realms - the outer area bordered by four gigantic entrance gates - then an inner area - and in the very centre the most sacred rooms where only Hindus are allowed to enter.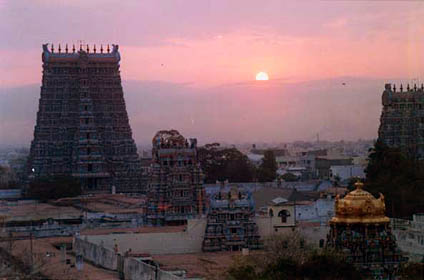 Sree Meenaskhi Temple
We arrived at 5 a.m. on a public bus from Pondicherry. Apart from some rickshaw drivers, the town was still sleeping. Fortunately, the recommended hotels were just walking distance away. It is quite common that the hotel staff has to sleep on the floor of the receptionist's room. We felt quite bad of waking up the staff of several hotels - until we found a nice place: "Sree Devi Hotel", just a few streets away from the western entrance gate to the temple area.
The man who showed me the room said incidentally: "Just have a look out of the window here..." - I had that look and got a shiver: for the first time I saw these huge blocks of the entrance gates, 120ft high, standing statically in the dark-blue silence of the beginning dawn. Our hotel had a nice roof top terrace allowing us a phantastic view on the temple during sunrise later on.